SWEET HEARTS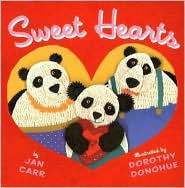 A perfect first book about
Valentine's Day:

One heart on the bathroom mirror,
One heart in a shoe,
One heart by my mommy's mug
To tell her "I love you!"
Follow Little Panda as he hides hearts all over his house to surprise his family for Valentine's Day. He slips one into his mommy's sleeve, then hides one near the baby's plate. No one is forgotten -- not even Spot the dog! There's lots of love to go around in this young, rhyming book about Valentine's Day.
When my son was 2, Valentine's Day was coming up. He had no idea what Valentine's Day was, so I went to the store to look for a book that would introduce the ideas of the holiday. But I couldn't find any book that was young enough or that introduced the ideas I thought were important. What were those ideas? They were simple: that Valentine's Day is about love, and that people like to make and give Valentine's cards to their loved ones.

When I couldn't find a book, I thought, "I'll write my own!" That's when I came up with the idea of a little one making and hiding Valentines for the members of his or her family.

I also decided to tell the story in rhyme. Rhyme doesn't always work in stories. If you're trying to tell a complicated story with a lot of details, rhyme can be clumsy. You might have to change the story to fit the rhyme, or force the rhyme to fit the story. But my story was simple. And I wanted it to be accessible to very young children, so I decided to try rhyme.

Did you notice that the character in the book has no name? And did you notice that the character could be either male or female? That was cool, I thought. That meant that all readers could enjoy the book and relate to the character.

Also, isn't the art amazing? My friend Dorothy Donohue made the pictures. Whenever I go on school visits, I always ask the class if they can figure out how she made them. And they always guess right! It's collage! The cut outs almost look 3-D, don't they? Imagine how much time it must have taken her to cut out each of those little tufts of Panda fur!

Also, it was fun that Dorothy envisioned the characters as Pandas, not real people. That was her idea, not mine, an example of how collaboration can make a book stronger and richer.

Thank you, Dorothy! And happy Valentine's Day to one and all!