'CAUSE I LOVE YOU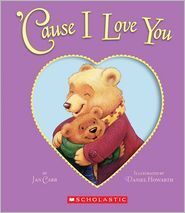 You're my little bundle bear.
Snap up, wrap up wooly wear.
We go here, there, everywhere
'Cause I love you!
Mama Bear and Little Bear go about their day – they shop, play in the park, race home, eat, and suds up in the tub. "You're my little bundle bear," says Mama. Why? "'Cause I Love You!"
I wanted to capture the closeness and pleasure of a toddler and mom or other loved one spending a day together. Flying high on a swing, licking a spoon, stacking cans in a grocery cart -- these experiences loom large in the life of a young child. Little ones and those who love and care for them share these pleasures every day, and I wanted to celebrate them.