GREEDY APOSTROPHE: A CAUTIONARY TALE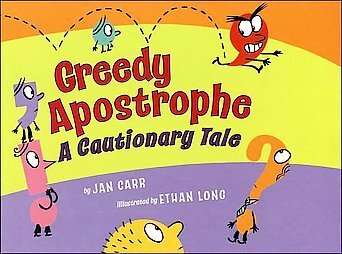 Perfect for budding grammarians.

One punctuation mark, and one alone, refused to take the solemn Punctuation Mark Oath.
And that was GREEDY APOSTROPHE!
Uh oh! Greedy Apostrophe is on the loose and he's causing all kinds of trouble, inserting himself into plurals, where he doesn't belong. He's put himself into signs for TOY'S (TOYS), KITE'S (KITES), and BOOK'S (BOOKS). But he doesn't fool little Chloe Clark "Hey!" she cries. "That apostrophe doesn't belong there!" Watchful readers, stay on the alert! Greedy Apostrophe is out there creating havoc!
Don't you hate it when you see apostrophes lurking in signs when they don't belong there? Maybe at the grocery store, where the sign in the vegetable bin says "Carrot's."

Does that mean that something BELONGS to the one of the carrots? What? Carrot's leafy tops? Carrot's orange color? Carrot's bff Turnip?

No! "Carrots" is plural, not possessive! Get your mitts off that plural, you Greedy Apostrophe!

Many people see injustice in the world and let it pass, but I decided to DO something about it. I'd write a book and set the world straight.

This, dear reader, is that book.

Greedy Apostrophe must be stopped.